So I made it to the end of the school year without harming any students, taking any medications (prescription, over-the-counter, or otherwise), or walking out and simply quitting!!! YAY!! I feel like that was a major accomplishment! I must, however give all of the glory for that to God. He is the One who got me out of bed every morning and gave me what little desire had to go to the school and "teach" every day. It got worse before it was over, and I feel now as if I could handle just about anything!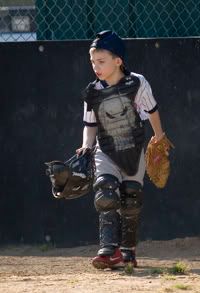 Cole finished up 3rd grade with all A's all year. He is proud of that accomplishment, also. He made a 100 on his Reading TAKS test, and only missed 1 question on his Math TAKS. He beat himself up pretty bad for missing the 1 question! I am so proud of him, though! Cole has been the catcher for the Blue Jays and the Red Sox (a tournament team) this past baseball season, and has now made it on the
ALLSTARS
team! Woo-hoo, Cole~~a.k.a. The Punisher. Games start this Thursday-Saturday in Springhill, then next Friday-Wed. in Jacksonville. Cole is doing a great job in baseball and loving it. I love this pic of him....he is very intense when he plays!
If you would like to see Cole and Jacob's stats for this year, click on this:
Forever Love
and then click on Cole's Stats or Jacob's stats. Ben spent a lot of time putting it together this year!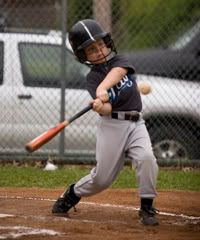 Jacob finished 1st grade reading on a higher reading level than most of my 3rd graders. He does not enjoy reading, unless someone is listening to him or it is a comic book, but he is very good at it. Jacob played for the Blue Jays and came a long way with his hitting, throwing and catching. At a few games he donned Cole's catcher gear and got behind the plate. He did a great job! Jacob is also loving summer and all of the swimming that comes with it!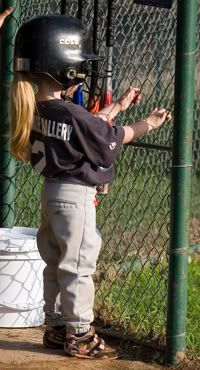 Annalisa is ready for us to move, and she can't wait to start school. However, we found out that where the cut-off date for starting school in Texas is Sept. 1, in Missouri it is Aug. 1....not much help for her there. During the baseball season, Annalisa could not go to a game without wearing her baseball uniform! She was convinced the boys loved it, and she also got a free soda after the game if she was in a uniform! I haven't raised a dummy! In this photo she is being the "batgirl" for the Blue Jays. She loved being in the dugout with all of the guys!
We are listing our house with a real estate agent this afternoon, because the whole "For Sale By Owner" thing just wasn't up my alley. We have a couple interested in buying it for what we are asking, but they are young and it is their first buy, and I just don't want to tell them wrong things, so I will solicit the help of someone knowledgeable in the field.

Mostly, I am enjoying sleeping late and not listening to kids that I didn't give birth to (and therefore can't spank) disrespect me all day long and fight each other.
I love being at home with my own three kids and Benny!! I had a great week last week with just Ben because the kids went to Dad and Lynn's house and had a blast. I don't think they were ready to come home to me!!! I am glad they love their grandparents and can spend time with them. Soon, they will go to Jim and Ruby's for vacation bible school! They love that!